Spartan Delta BeoWulf Metal Airsoft AEG
SKU:

PS-68109

UPC:

806481681093

Shipping:

Calculated at Checkout
Why buy from Airsoft Station?
FREE SHIPPINGOn purchases over $149
(lower 48 states)

Returns & WarrantyReturns & Warranty Policy
for 30 days

RAVE reviewsRated 4.6/5 by 35,000+
Happy Customers
Spartan's Delta BeoWulf Full Metal Airsoft Rifle
Designed to look and feel aggressive, the Delta BeoWulf delivers on style and performance at an affordable price. This all-metal AEG sports full metal receivers, rail system, and buffer rube to maximize durability. It's rail system comes with more than enough space to accessorize it with aftermarket attachments such as PEQ boxes, flashlights, and lasers. Spartan included a polymer full length vertical foregrip and two rail covers to get you started as well. It's metal flip up front and rear sights can be used to make accurate close to mid-range shots or it they can be flipped down to use as backups to aftermarket optics such as red dots or holographic scopes. The utility style reinforced polymer stock is adjustable for length, features 3 QD sling mount attachment points, a strap sling loop, and a small utility storage compartment as well. The BeoWulf also features a unique Crown Shotgun metal flash hider for a unique look. Firing at 380-390 FPS with 0.20g BBs, this AEG packs a punch and it's length makes it an ideal all-scenarios balanced airsoft rifle. Two 300 BB metal high capacity magazines are also included with this AEG. Internally, this rear-wired AEG sports a version 2 TM-compatible gearbox that is upgradeable and easy to find aftermarket parts for meaning this AEG can last a lifetime!
Specifications:
380-390 FPS with 0.20g BBs
Full Metal Externals: Receivers, RIS, Barrel, Buffer Tube
Picatinny Weaver RIS
Adjustable Utility Stock
Vertical Grip & 2 Rail Covers Included
2 High Capacity 300 BB Metal Magazines Included
Flip up Front and Rear Sights Included
Note: Battery and Charger Sold Separately. Product sold with federally mandated orange tip attached and removal of the orange tip will void the warranty and all possibility of returns. Crown Shotgun Flash hider is included in the product box.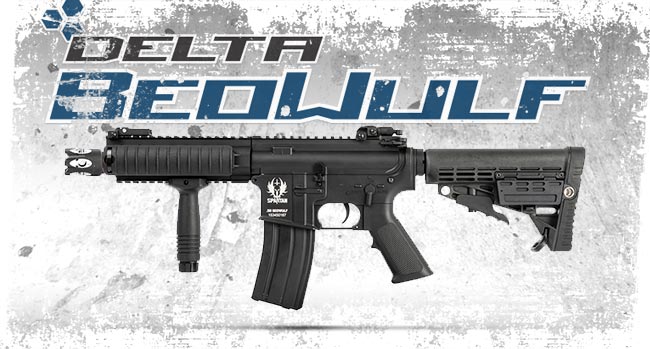 30 Day Return / 60 Day Warranty Removal of Orange Tip Voids Warranty and all possibility of returns.