ICS PAR MK3 MTR - The 416's Bigger, Badder Brother
Taking inspiration from the wildly popular and successful 416 style of AR/M4 platform, ICS has released their latest creation featuring a rock-solid design sporting many aftermarket upgrade accessories all built upon their legendary ICS Version 2 Split Gearbox.
Internals
ICS has become a favorite manufacturer among airsoft enthusiasts with their famed Split Gearbox. ICS has designed their gearboxes in two parts. Much like the upper and lower receivers on this rifle, the gearbox has an upper and lower portion. The upper portion fits securely within the upper receiver and holds the spring, cylinder, and piston (compression) assembly. The lower assembly sits within the lower receiver and houses all of the gears and trigger assembly. The advantage to having this split gearbox design is that it makes swapping springs for easy FPS adjustments. Instead of disassembling the entire gearbox, the upper half of the gearbox can be easily removed and the stock M120 spring changed to suit any FPS. This makes any ICS rifle with the split gearbox perfect for nearly any and all Airsoft fields - inndoors and outside. The lower half sports ICS's drive train powered by an 11.1v LiPO-ready, fuse protected wiring and an ICS Turbo 3000 motor. This rifle also features ICS's Electric Blowback System that adds a bit of realism to firing in both semi and full-auto by cycling the faux-bolt.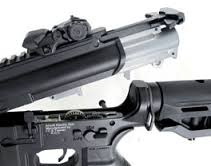 Externals
The 416-inspired frame has proven time and time again to be rock solid. If a rifle needs to go through the most intense airsoft battles, this frame is one of the few that will survive. The reinforced receivers give this rifle a unique look and feel as well as add durability. Milled from aircraft grade aluminum, this rifle is both lightweight and resiliant. The monolithic upper receiver and 10.5" picatinny/weaver rail system allows this rifle to be customized in hundreds of ways to suit any operator or operation. The RIS can be accessorized with a wide variety of aftermarket accessories such as lights, lasers, foregrips, bipods, launchers, and more.
ICS took the PAR MK3 MTR a step further by upgrading all of the other external hardware and accessories. The standard iron sights were replaced by their CXP series flip-up front and rear back-up sights that can be used with other aftermarket picatinny/weaver compatible optics such as red dots or scopes. The magazine was upgrades to include a thermold style lightweight 300 BB high capacity nylon fiber magazine. The pistol/motor grip was upgrades with their ergonomic grip for better comfort and control. The stock was replaces with their MTR Carbine Stock, a lightweight, minimalist, multi-position stock.
This Package Features
ICS PAR MK3 MTR Full Metal Airsoft AEG

390-400 FPS with 0.20g BBs
11.1v Stick Type Buffer Tube LiPO Ready (Not Included)
ICS Split Version 2 Gearbox
10.5" Metal RIS System

Upgraded Externals: CXP Flip Up Sights, Ergo Grip, MTR Carbine Stock
Other Contents: 300 BB Nylon Fiber High Capacity Magazine, Manual, Sample 0.20g ICS BBs, Cleaning/Unjamming Rod